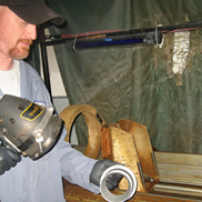 Level 2 Magnaflux, Eddy current and Zyglo capability
All repairs and work is done to the standards set by the FAA and factory manufactures.

At Western Aircraft Propeller Service our machines are calibrated and our mechanics are highly trained to perform these services.
Our Mechanics are seasoned professionals with over 100 years combined experience
We have only the most experienced and dedicated mechanics working in our shop. All of our technicians and mechanics are certified and have an extensive background working with aircraft propeller repair and overhaul.

Count on us to get your Aircraft back in the air working properly.
A
ircraft Propeller Repairs or Overhauls
Whether your Aircraft Propeller needs limited maintenance, a complete overhaul or repair after sustaining damage we are here to diagnose the issues and fix them properly. We offer a 1 year warranty on all our overhauls regardless of hours.


We offer quality service at affordable pricing.